The 30th HOTELEX Expo – New Opportunities in the Post-epidemic Era
2020 is an extremely special year for the catering industry. The epidemic is not only a big test related to the survival of the hotel and catering industry, but also an extremely "rare" opportunity. Numerous catering companies suddenly encountered the pressure of survival, some companies took over, and some companies fell. We see that those companies that pursue excellence have not only failed to push their own problems to the epidemic, but have turned the epidemic into an opportunity for enterprises to further improve themselves in the crisis.
The 30th HOTELEX EXPO(SHANGHAI INTERNATIONAL HOSPITALITY EQUIPMENT & FOODSERVICE EXPO )held in Shanghai on Mar. 29-Apr,.1,2021 is more significant than ever. While expanding the exhibits category, the exhibition also digs into vertical categories vertically, adding 8 new special product exhibition areas: central kitchen boutique exhibition area, own brand exhibition area, catering design exhibition area, chain franchise exhibition area, international halal chain brand area, hot pot Food materials exhibition area, catering and packaging joint exhibition area, coffee food festival. The establishment of these new exhibition areas represents the development trend of catering in the post-epidemic era. The era of unified intensive and standardized catering management has come.
Tianjin Newidea Machinery Co., Ltd. joined hands with Miaoji Coffee to participate in the exhibition and displayed three coffee packaging machines. It brings new opportunities for companies that need coffee packaging machines and coffee processing. Tianjin Newidea Machinery Co., Ltd. displays the following three coffee packaging machines.
1. Drip coffee bag packaging machine-ND-C60S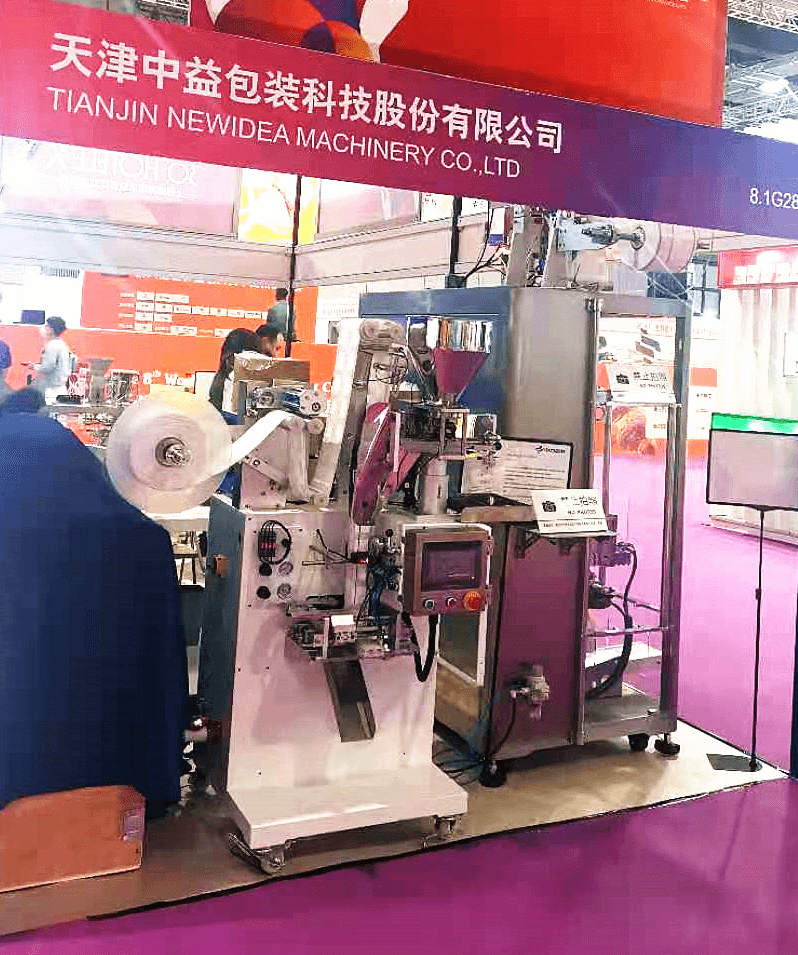 1) This is an ultrasonic coffee packaging machine for drip coffee bag. With small floor space , beautiful appearance and simple operation.
2) It can pack 6-12 grams of drip coffee bag, and it can also pack non-woven tea bags with strings and tags.
3) With an outer bag sealing machine that can be filled with nitrogen, the inner and outer bags are perfectly packaged.
This machine has a small investment and a quick return on costs. It is favored by cafes and small processing plants.
2.Inner drip coffee bag with and outer bag packaging machine-ND-C80E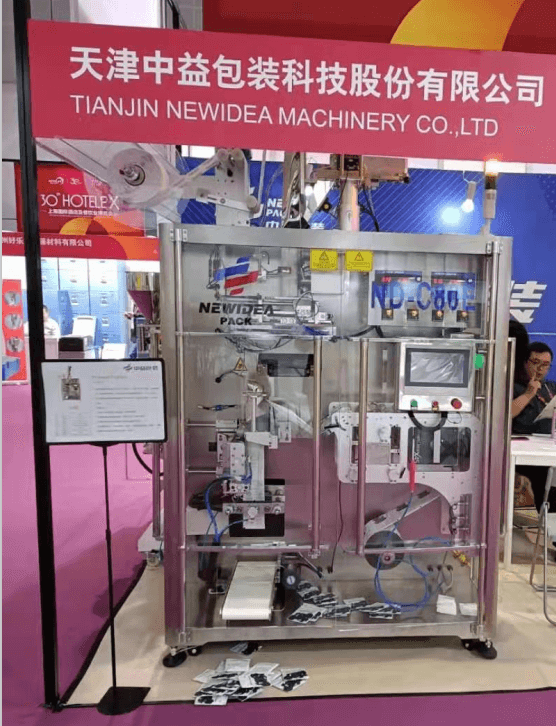 1) This machine is the latest upgrade of the inner and outer bag packaging machine for drip coffee bag Debut in China for the first time.
2) The packaging machine runs stably at 60 bags/min, has a low failure rate and a low rejection rate, and saves management and maintenance costs. It is comparable to the Japanese FUSO drip coffee bag packaging machine.
3) The Italian chief designer participates in the design, from the mechanical structure to the function operation, it can be called a work of art.
4) After professional testing, the oxygen content in the packaging bag is only 1% after the outer packaging is flushed with nitrogen. Greatly extend the shelf life of coffee.
5) Especially the combination of PLC intelligent control and mobile APP remote control is convenient for production management and data collection management.
6) The outer bag making and sealing structure breaks through the kraft paper packaging material barrier and solves the world problem of wrinkling and difficult sealing of kraft paper packaging bags.
On its debut, this machine shocked domestic coffee industry customers. They are shocked and proud that China has independently developed and produced such a machine. Many customers are full of great interest and negotiate on the spot, looking forward to using this machine as soon as possible.
3. Coffee bean packaging machine-ND-P300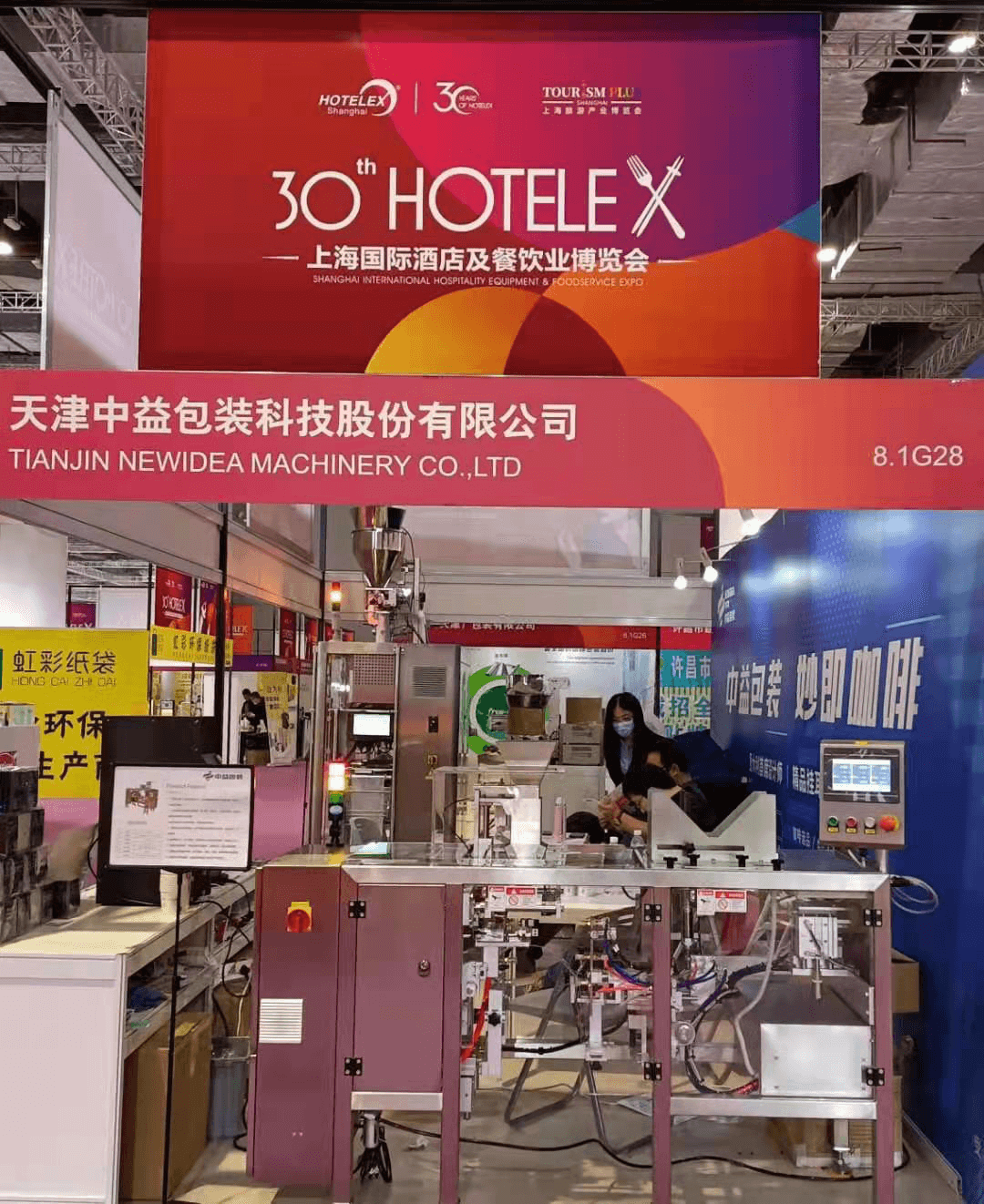 1) This machine is used to pack pre-made bags of coffee beans, suitable for 250-500g coffee beans.
2) The bag type can be: prefabricated bags such as vented valve belt with zipper, gusseted vented valve bag, self-supporting bag with vented valve, etc.
3) With four-head scale, fully automatic weighing, bagging, coding, bag opening, blanking, sealing and output.
4) Efficient, accurate, and labor saving.
At the same time, our partner Miaoji Coffee has also won many customers who look for drip coffee bag OEM. Miaoji Coffee showcased the Miaoji coffee packaged by our ND-C80E inner drip coffee and outer bag packaging machine. From the perfect edge sealing to the wonderful coffee taste, it has attracted a large number of customers .These customers love coffee very much, and they pay more attention to providing premium drip coffee to their customers, so the requirements of the selection of coffee beans, the roasting of coffee beans, the drip coffee bag packaging materials and packaging freshness are extremely high. They believe that the ND-C80E inner drip coffee and outer bag packaging machine is the perfect packaging machine that can meet their needs for packaging premium drip coffee bag.
In addition, the exhibition also conducted exchanges and negotiations with customers from other industries.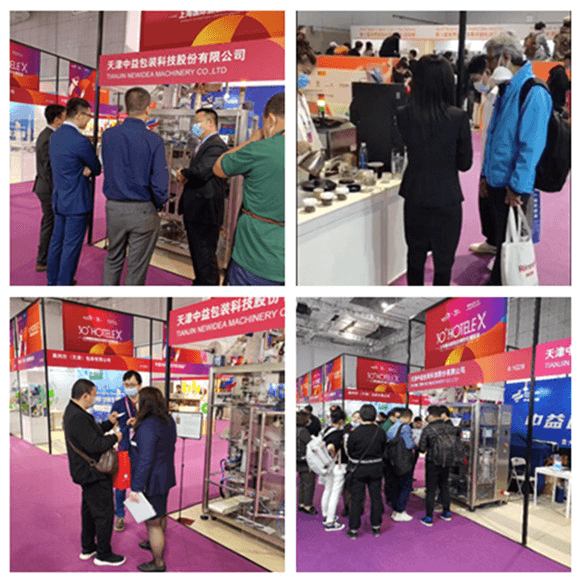 1. Central kitchen industry. They need a variety of liquid, sauce, powder, and granular condiment packaging machines and vegetable packaging machines to be distributed to chain restaurants. This is a major advancement in the catering industry. They have a professional raw material production base, unified large-scale procurement, unified distribution of raw materials, cost savings, and unified taste. Therefore, the central kitchen will be a major growth point in the packaging machine industry.
2. Tea industry. Tea has a long history in China. There are scented tea, green tea, and Pu'er tea. Now there are some fruit teas and health teas. In the past, tea leaves were packed in 10-500 grams. With the popularity of convenient packaging methods, filter paper tea bags and triangular tea bags are becoming more and more popular among consumers. Many tea factories have begun to change their packaging methods, looking for tea-bag packaging machines. Zhongyi Packaging has a variety of tea packaging machines to provide customers with entrepreneurial ideas and packaging solutions.
3. Food and other industries. During the epidemic, e-commerce and live streaming brought convenience to people's lives. And these products need packaging. This has greatly increased the demand for packaging machines from all walks of life.
Through this exhibition, we can feel that the domestic economic situation is developing in a good direction. Thanks to the effective control of the epidemic by China government and the entire people, people's new life have been set sail again. We believe that with the active cooperation of the international, the world's epidemic situation will get better and better. If there is no change,Tianjin Newidea Machinery Co., Ltd. will participate in Vietnam's VIEFOOD& BEVERAGE – PROPACK from August 13 to August 15, 2021, and Indonesia's ALL PACK from October 27 to October 30, 2021. In the new situation and new opportunities, Tianjin Newidea Machinery Co., Ltd. will join hands with you to create a better future!