ND-C80E Automatic Drip Coffee Bag Packaging Machine
ND-C80E is our latest generation of intelligent inner drip coffee bag and outer bag packaging machine. Integrating advanced industrial automation concepts of domestic and abroad, designed according to the international first-class brand standards, independent research and development, obtained a number of invention and innovation patents. Compared to the previous generation, we have made a lot of upgrades on the materials and control system, the data monitor is more complete, the design is more humanization.
Feature Of Drip Bag Coffee Packaging Machine
1. The machine can complete bag-making, measuring, filling, sealing, cutting, counting, printing QR code, nitrogen filling function and other functions.
2. The machine structure is open type, convenient for debugging, monitoring, clean, and man-machine interface operation.
3. Adopt Mitsubishi PLC, multi-language touch screen controlling, main power by servo system, easy operation, high efficiency.
4. In Strict detection, the equipment will stop under the conditions of no material, empty inner bag, empty outer bag, no film, insufficient air pressure, temperature deviation and so on, to greatly reduce the output of defective products.
5. The inner bag length is driven by a servo motor, positioning is accurate ,and the bag length is stable.
6. The outer bag adopts the form of servo motor pulling film, which is more smooth and fast than the traditional pulling film wheel type. Shaper using five axes machining center precision processing, can be applied to most of the different material film, and the production of bag smooth natural, no pull marks, wrinkles and other defects.
7. Independent inner bag production mode, can realize one machine multi-purpose, users can according to the needs of the production of lug inner bag, filter paper inner bag, inner and outer bag three different types of products.
8. The feeding system of this machine has the advantages of simple adjustment, high measuring accuracy, and easy to clean, which effectively solves the cleaning problem caused by frequent replacement of materials in the production process
OPTIONAL ACCESSORIES
1
Model
ND-C80E
2
Packing Speed
50-60 bags/min
3
Filling Range
8-12g
4
Inner bag size
90mm(W)*75mm(L) or 100mm(W)*85mm(L)
5
Outer bag size
100mm(W)*125mm(L) or 110mm(W)*135mm(L)
6
Sealing Method
Full ultrasonic sealing for inner
Heat sealing for envelope
7
Air Pressure
0.6 mpa
8
Total power
220V 50-60HZ 3.5KW
9
Weight
1200Kg
10
Dimension
1845mm*1082mm*2684mm(L*W*H)
Equipment configuration
| | | |
| --- | --- | --- |
| 1 | Model | ND-C60S |
| 2 | Packing Speed | 60 bags/min |
| 3 | Filling Range | 6-12g ground coffee, 1.5-10g tea |
| 4 | Bag Size | 75mm*90mm |
| 5 | Air Consumption | 0.6Mpa,0.2m³/min |
| 6 | Sealing Method | Ultrasonic Sealing |
| 7 | Voltage/Power | 0.6 mpa |
| 8 | Air consumption | 200 L/min |
| 9 | Machine dimension | 1183*75*1648mm |
outline Diagram
Inner bag: Drip coffee bag,drip tea bag, flat bag with or without tag and thread.
Inner bag packaging material:Can made of non-woven fabric, PET mesh, corn fiber environmental protection material,etc.
Outer envelope: Three-side sealing(a variety of easy tear are available)
Outer envelope packaging material: Aluminized film, pure aluminum laminated film, Kraft paper laminated film, etc. are available.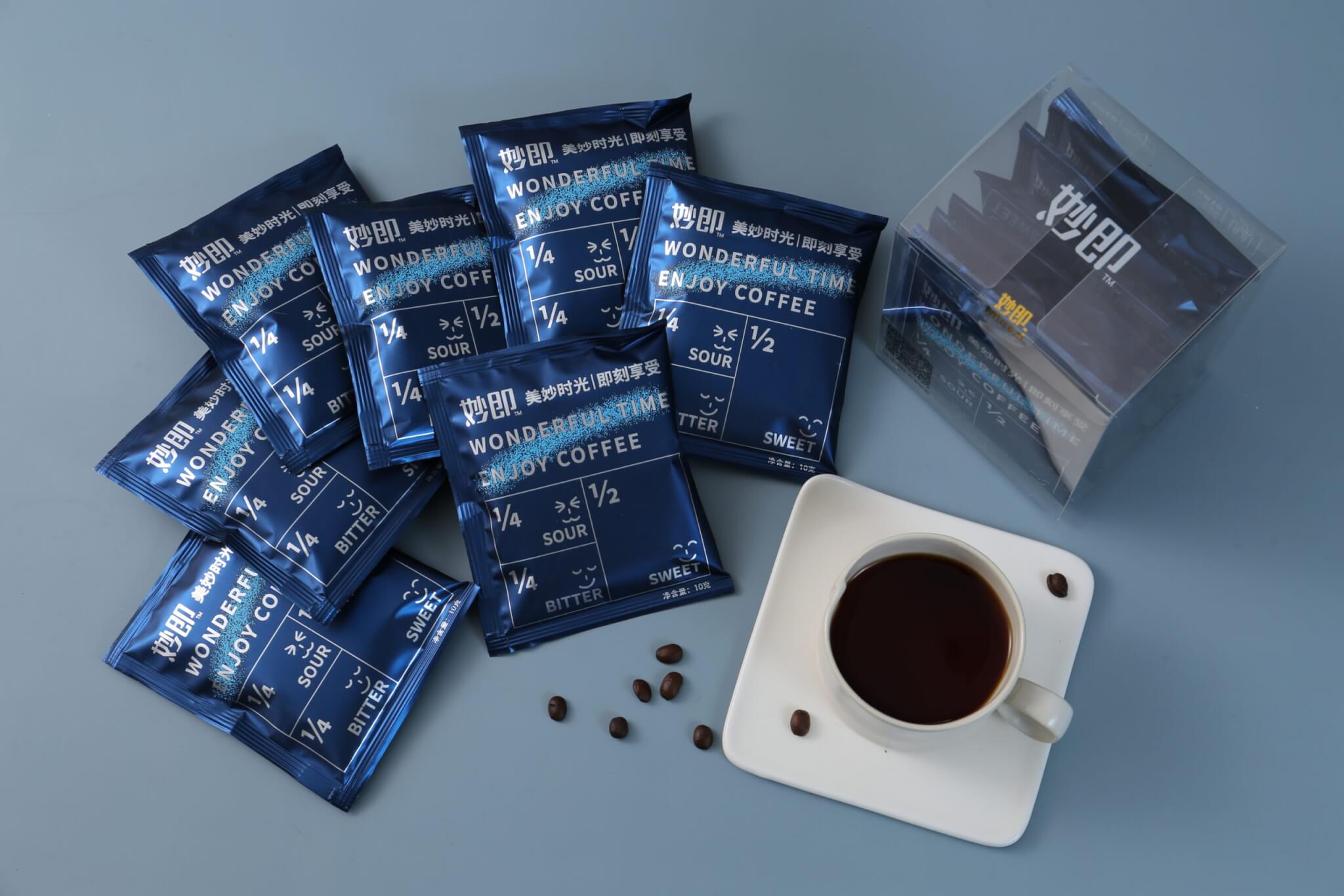 ND-C80E drip coffee packaging machine can pack drip coffee bag with outer envelope with nitrogen filling to extend the shelf life. This makes it possible for some cafes and ground coffee manufacturers to sell more coffee around the world.
The machine is easy to operate and has stable performance, with an output of about 3,600 packs per hour. It is suitable for the needs of coffee roasting factories and coffee OEM factories.
Detailed difference of each item, please click here to read more.
If you want to preserve the flavor of coffee to the greatest extent, let your customers have the wonderful experience of high-quality coffee, choosing pure non-woven material is the best choice. For packaging drip coffee bag with pure non-woven material, must choose ultrasonic sealing packaging machine.
Want To Know More About Our Packaging Machines?
We'd be happy to introduce you personally about our products and solutions. Call us or let us call you back at a convenient time for you.
Find out how we can help. Give us a call.
Phone: +86-13920157717