Newidea Drip Coffee Packaging Machine Helps Clients Develop Rapidly
Luckin Coffee is one of the largest chain coffee brands in China. The only coffee chain brand in China that can rival Starbucks. In October 2017, Luckin Coffee opened its first store. As of June 2022, the number of Luckin Coffee stores nationwide has exceeded 7,000. In just 5 years, this young brand has grown rapidly.Through store operations, Luckin Coffee has accumulated a large number of store customers' awareness of the brand, making full use of the new retail model of mobile Internet and big data technology, and in-depth cooperation with top suppliers in various fields, they are committed to providing customers with high-quality, cost-effective , high convenience products. The coffee beans of Luckin Coffee have won the gold medal in the IIAC International Coffee Tasting Competition for two consecutive years. They have a wide variety of coffee products, among which drip coffee is one of their main products. It is easy to carry and brew, coupled with high-quality coffee quality and eye-catching packaging design, it is deeply loved by consumers.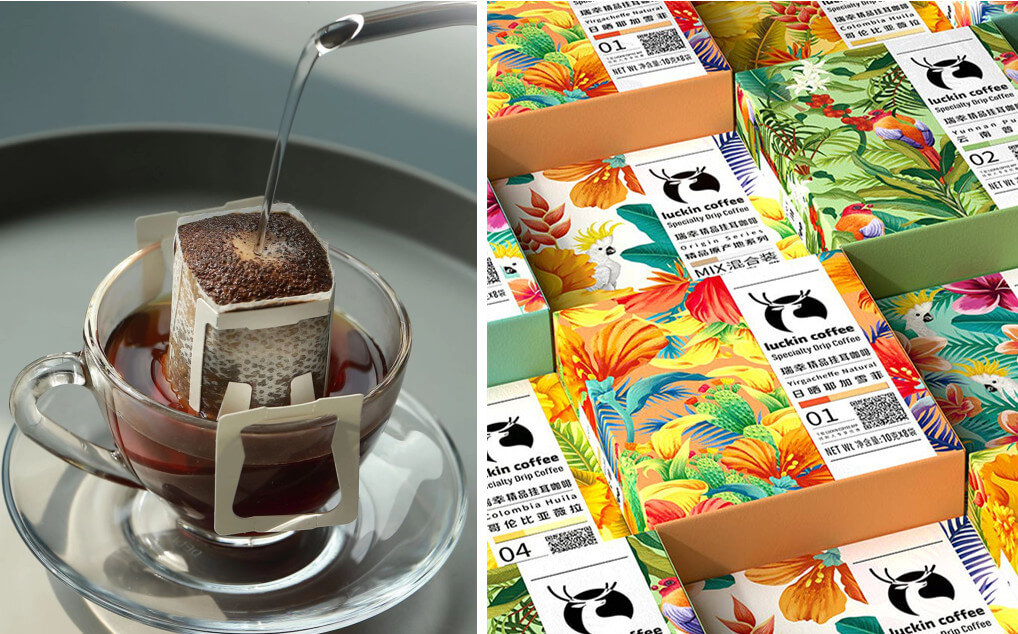 In May 2022, NEWIDEA PACK'S drip coffee packaging machine ND-C80E produced 1.4 million packs of drip coffee bag for Luckin Coffee. Produced by 2 machines only took 20 days with daily output more than 35,000 packs. Beautiful seal, nitrogen-filled to keep fresh, helping customers to quickly occupy the market. In the future, the drip coffee packaging machine ND-C80E will produce more drip coffee for them and present it to the customers who are keen on coffee. We are sincerely happy that our machine creates more and more value for customers.
Why choose NEWIDEA PACK'S drip coffee packaging machine? Because NEWIDEA PACK has more than ten years of coffee packaging history and has served hundreds of large-scale coffee clients, our drip coffee packaging machines have independent intellectual property rights, deep-rooted quality, excellent service, and create value for the society together with customers.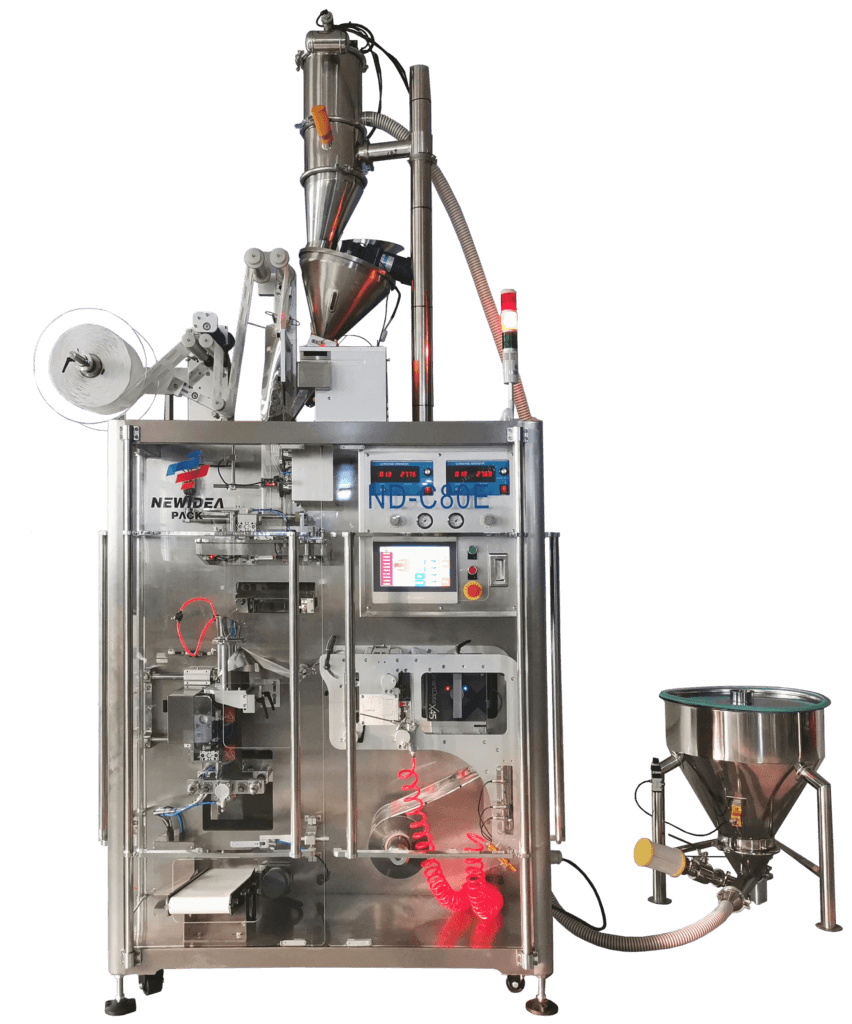 Drip coffee packaging machine ND-C80E is the latest generation drip coffee bag packaging machine of NEWIDEA PACK. It can be compared with international famous brands.
We have a R&D team led by the Italian chief designer, visibility window, humanized design, and international top-level production technology.
Adopting Japanese Yaskawa servo motor, three servo system control, precise control of the inner and outer bags to pull the film, and the manipulator to clamp the bag.
The special film transport structure ensures that the tension of the packaging material is consistent, and solves the problem of deviation of the pulling film caused by uneven tension in the market.
The outer bag former adopts a special production process to ensure that the bag has no wrinkle. Solved the phenomenon of easy wrinkling of aluminized film, pure aluminum film and kraft paper film.
The nitrogen device realizes the function of coffee preservation. Residual oxygen content ≤ 1%, to maximize the preservation period of coffee.
The humanized design of the film roll changing device is easy to operate, can be changed in 2-3 minutes.
The combination of touch screen control and IOT technology can realize the connection between production data collection and ERP.
At present, the NEWIDEA PACK drip coffee packaging machine ND-C80E has been sold to more than 60 sets around the world, received unanimous praise from customers. Our latest generation of drip coffee packaging machine have been proven with better performance . We will not stop the pace of R&D and innovation. We also have a variety of coffee packaging machines in development, which will be presented to you in the near future. NEWIDEA PACK aims to create a packaging machine that understands coffee better. Choose NEWIDEA PACK coffee packaging machine to make coffee packaging easier. Contact with us now.