Newideapack ND-VFC350G Vertical Granule Packaging Machine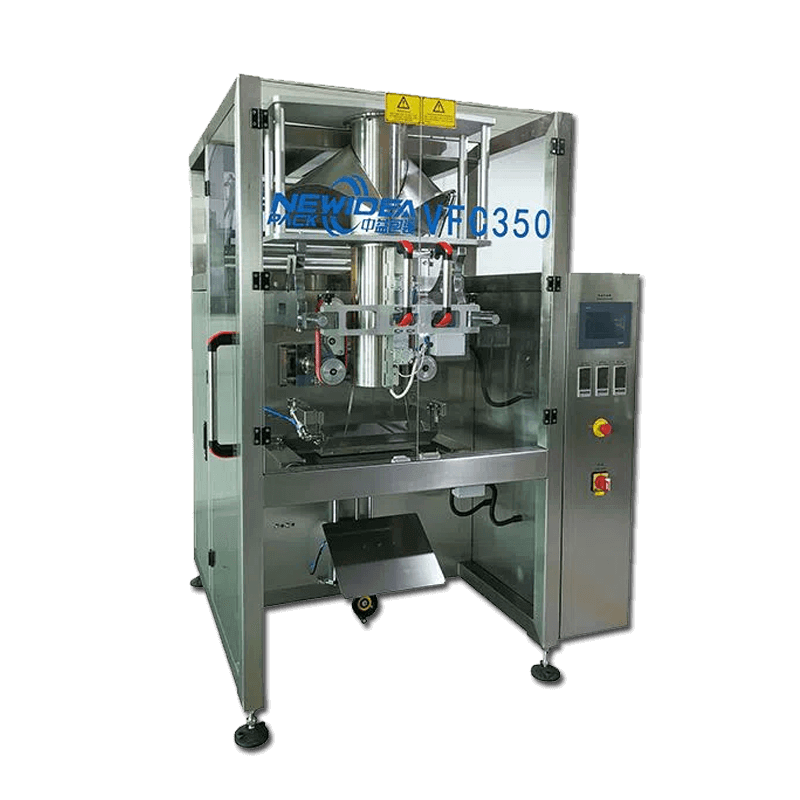 1
hopper and measuring cup
2
Packaging bag former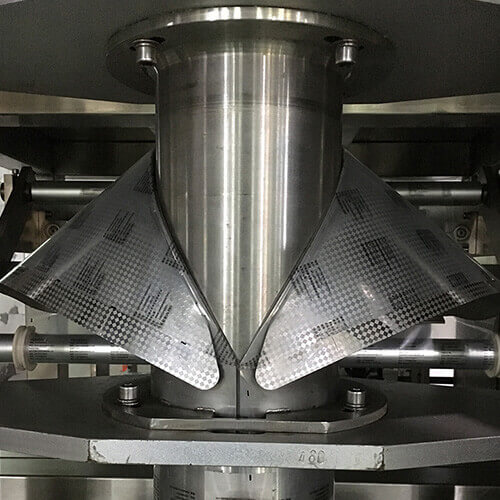 3
Film pulling wheel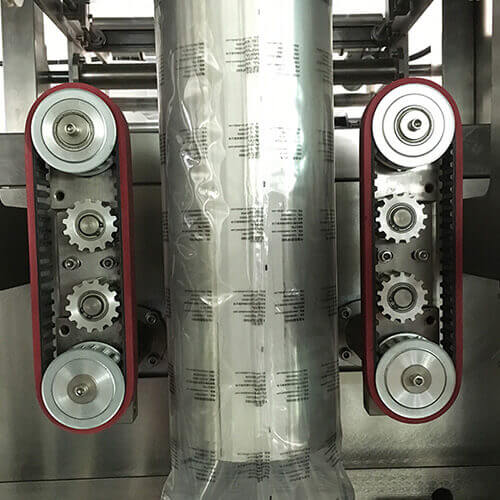 4
horizontal sealing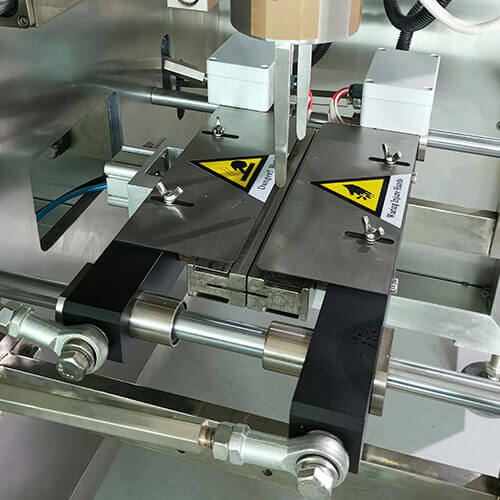 5
gusset device
Mechanical Components
1:hopper and measuring cup
2: Packaging bag former
3: Film pulling wheel
4: horizontal sealing
5: gusset device
Performance Parameter
Max Speed
60 bpm
Bag Size
Length of Pyramid Bag:50-80mm
Filling Range:1.5g-10g
Features
Specification
Bag Type Options
Solution
FAQ
Features
Model:VFC350G packaging machine is for packaging 1-8 kg granular products for food, chemical, hardware and other industries. Designed with the resource saving, safety, freshness preservation, the highest efficient and waste reduction as some of their most important features.
Feature
1. Multi-language color human-computer interaction interface, intuitive and simple operation.
2. Adopt Japanese Mitsubishi or France Schneider PLC control system, can store 10 kinds of product parameters, and adjust parameters without stopping the machine.
3. Intelligent detection, correction detection (correction motor, touch screen operation), length detection (cursor, encoder), the error range is±1 mm.
4. The temperature control system adopts the Japanese Omron temperature control meter, and the horizontal and vertical sealing are independent temperature control; the sealing system adopts SMC cylinder, which is suitable for various laminated films and PE films, and the packaging is beautiful and firm.
5. No film, no material, no ribbon, automatic alarm, open door and shutdown alarm, failure alarm. Make sure the safe and smart operation.
6. Low failure rate, high efficiency and stability, safe production for more than 10 years.
7. The Machine welding structure is open, convenient for maintenance and cleaning.
8. Basic Associated equipment, makes the machine give full play to its advantages. Realize automatic lifting, weighing, filling, bag making, sealing, cutting, output.
Specification
| | | |
| --- | --- | --- |
| 1 | Model | ND-VFC350G |
| 2 | Output | 5-50 bags/minute |
| 3 | Filling Range | 100ml-5000ml |
| 4 | Bag Length | 120 mm-500 mm |
| 5 | Bag Width | 150 mm-350 mm |
| 6 | Max. Film Width | 720 mm |
| 7 | Film Roll Diameter | Inner 75 mm, outer max 350 mm |
| 8 | Air Pressure | 0.65mpa |
| 9 | Air consumption | 0.6m3/min |
| 10 | Power | 220V/380V, 50Hz, 5kW |
| 11 | Machine weight | 700kgs |
| 12 | Machine Dimension | 1700x1320x1810 ( L x W x H, mm) |
Bag Type Options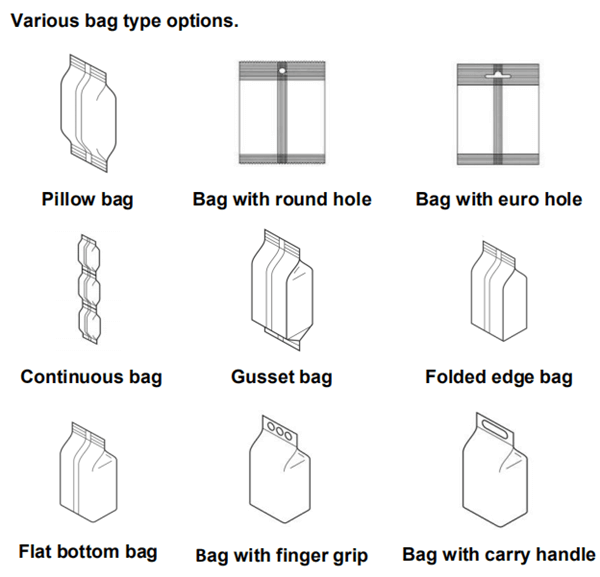 Solution
Automatic 1-8kgs Bag Granule Packaging Machine, professional granule packaging solutions have to be highly accurate in weighing and portioning loose products like grains, candies, snacks, frozen food, pet food, detergent particle.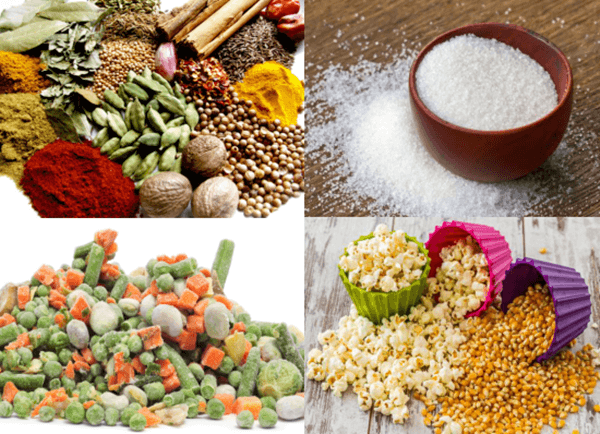 Bag Sample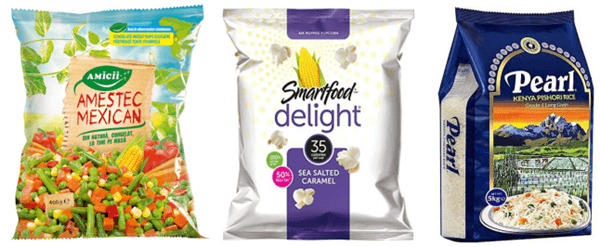 FAQ
How to solve the film deviation?
1、The position of the roll film can be quickly corrected by the correction device on the touch screen
2、Check whether the position of the center line of the film roll on the air shaft is in a straight line with the center line of the former.
3、More solution you can contact us for assistant
How to solve the bag sealing?
1、Properly extend the horizontal sealing delay in the parameter setting.
2、Properly increase the temperature of the corresponding temperature control table.
3、Check whether the material is clamped, and adjust the blanking time through the parameter setting.
More solution you can contact us for assistant
Related Products